Current Field Trip Offerings
| Date | Event |
| --- | --- |
|   |   |
| October 1 | BR Water Campus/Moon |
|   |   |
October 1
Harvest Moon
 6:30 PM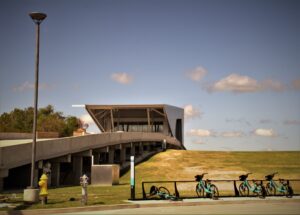 LPS members and guests can work on their "night moves" on Thursday evening, October 1st, as we head to the levees again for our next field trip.  We will meet a 6:30 p.m. that Thursday at the parking lot for the (fairly new) Water Campus, which is right across the street from the modern looking Water Campus building that sits atop the levee.  As many know there is a deck behind the building that overlooks the "Big Muddy".  We can set up there, on the deck, for some interesting photos, including a few "sunset over the water" images.   Sunset will be nearly due west on October 1st, and will be at 6:49 p.m.  The "Trippers" can set up their tripods for some great landscape/ sunset shots, or perhaps try out their speed flashes and work on "street photography".  We hope to have some of our more experienced members share their suggestions and tips with us to help improve our skills and explore new areas of photography.  We will be "working on our night moves" with a gorgeous sunset (we hope, no promises), and the Mississippi River reflecting evening lights under the downtown bridge.
 But that is just half of it.  We are heading West (young man).  Follow me.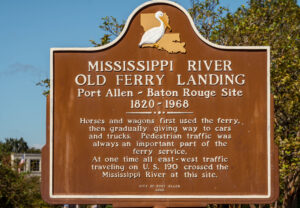 October 1st, 2020 is also the date of the annual "Harvest Moon".  After capturing the sunset in the West from the Baton Rouge side, we will cross the bridge to Port Allen to catch that "Harvest Moon" rising from the East over downtown Baton Rouge from the "Old Ferry Landing" at the end of Court St. in downtown Port Allen.  Again, the full moonrise will be nearly due east from the Old Ferry Landing and levee on the Port Allen side.  According to internet charts, moonrise in the Baton Rouge area begins a little after 7 p.m.  The full moon, along with the reflective lights from the downtown buildings, should make some remarkably interesting images, landscape, abstract or otherwise.   Make sure to bring tripods for these "low light" shots, speed lights for closer images, and maybe even a strobe for some "crazy" abstracts.  Medium to long zooms, along with a tripod, will make that moon stand out like a "glitter ball", taking those "night moves" to another level.
Remember, this is a weekday night, but it is a special one (if we have decent weather), with a two for one (a sunset and a moonrise).   Traffic to downtown and River Road should not be bad by 6:30 p.m., nor should the quick trip across the bridge to Port Allen between 7:30 and 8 p.m.   Parking along Court Street near the Pavilion is readily available at that time.  There is even an old cemetery close by for those desiring more "haunting" images under the "Harvest Moon".   Things to take include zoom lenses, and/or telephoto primes, a tripod or monopod, speed lights, remotes, a flashlight (to see what you are doing), and extra cards and batteries.  Register and join us for this LPS excursion under this year's "Harvest Moon".   We are looking forward to seeing those new "night moves" images on the LPS Field Trip Gallery page.  See you there.