Current Field Trip Offerings
 Pensacola, Florida
April 26, 27, 28, 2019
The Pensacola Bay Area beaches are known world wide for their sugar white sand and emerald green waters. This week-end we can expect the best of the gulf coast weather. All elements lead to the best of the best "Louisiana Photographic Society" field trip. The itinerary follows. Arrive Friday afternoon/evening in the Gulf Breeze, Pensacola area. Friday evening sunset on your own. Saturday morning along the west Pensacola beach expect beautiful sunrise and shore birds. From there we will travel a short distance to state picnic grounds and approximately 30 accessible Osprey nests. Osprey are unique in that they pay very close attention to their surroundings and that includes you. Wonderful subjects. A short distance away we will venture on to Fort Pickens and take advantage of the unique architecture of this facility. Midday lunch and a review of the mornings efforts. Late afternoon we will travel to the Gulf Breeze National Seashore for sunset. Like many national parks, this area is free from billboards and unnatural structures. Sunday morning we will depart Pensacola and set our sights for Bellingrath Gardens via the ferry boat from Fort Morgan providing yet another photo topic. This 65 acre site features countless gardens and over 400 varieties of plants. Of course April is the ideal time of year for this garden. Because this is a special trip, we will be scheduling a meeting to review travel and lodging accommodations as well as other loose ends. You are responsible for making hotel reservations. I offer two suggestions: Quality Inn, 51 Gulf Breeze Hwy. and Hampton Inn & Suites, 61 Gulf Breeze Hwy, both in Gulf Breeze, Florida. If you are interested, it might be a good idea to book a room now. All in all, this promises to be the highlight of our field trip season. Stay tuned for updates and remember if you don't go, you won't know… Register Here or Do you need to Cancel?
---
Bayou Teche/St. Martinville
May 18, 2019
Assemble Drusilla McDonald's @ 7:30 am
Join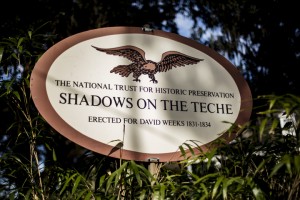 us as we travel along the Bayou Teche to the historic district of St. Martinville and St. Martin Square. From there we will travel a short distance to New Iberia and explore the Main Street Historic District Walking Tour ending up with a tour of the "Shadows on the Teche." In many ways we are fortunate to live in south Louisiana and have the opportunity to photograph the beauty of the Cajun Country, as well as experience the food and culture. Wh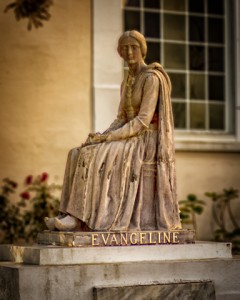 ile we may not think of St. Martinville and New Iberia as ideal photo locations, they are in fact exactly that, Ideal. The history of St. Martinville Historic District featuring 32 buildings dating back to 1820 offer unique features. The same can be said for New Iberia and the Main Street Historic District Walking Tour. This is followed up by the beauty of the Shadows on the Teche. Live Oaks draped with Spanish Moss, cast shadows on the home, gardens and Bayou Teche. Both of these locations challenge the photographer's eye to create images with texture, leading lines, color, depth, and all the other elements that make an interesting photograph. Challenge yourself by using just a 50 mm lens with it's wide aperture. Or test your skills by limiting yourself to the wide angle or ultra wide angle lens. Think black and white. All in all, this promises to be a terrific photo venture. Stay tuned for updates.             Register Here or Do you need to Cancel?  
---
Saturday Night Heat !
July 20, 2019
5:00 pm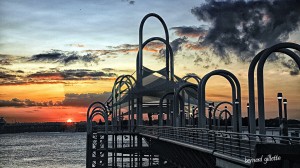 Well, I may not know much, but I do know July in south Louisiana is plenty hot. So, in order to beat the heat (best we can) and introduce a somewhat new challenge. Here's the plan. Assemble at a downtown restaurant (to be determined, suggestions are encouraged.) for 5.00 PM. Take time out for good groceries and friends. From there proceed to the levee and create some masterpiece sunset images. We may take the Mississippi River as an everyday occurrence, yet it is a marvel and rich with history. Once the sun has disappeared, we'll move on to the State Capital grounds for night time photography. The members of the "Louisiana Photographic Society" consist of many outstanding photographers. Perhaps their personal portfolio requires an update with night time images. Take the time and challenge yourself with your light painting skills. Many attractive options exist, consider the Huey Long statue, the architecture of the new and old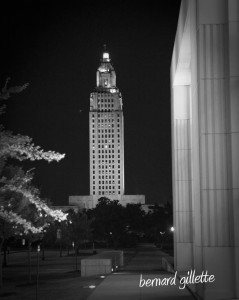 buildings dramatically lit. Or,paint the capital steps outlining your favorite state.The statues on either side of the capital steps are another attractive photo option. Challenge your night time photo skills. Of course night photography requires long exposures. That means tripods, cable releases are a must. You just might want to include a micro fiber cleaning cloth and a flash light. You will not need gloves, down filled jackets or other cold weather clothing. Long exposures require healthy batteries, so you know what to do.
Register Here or Do you need to Cancel?  
---
 Big Splash !
August 10, 2019, 10:00 am – 3:30 pm
Bluebonnet Library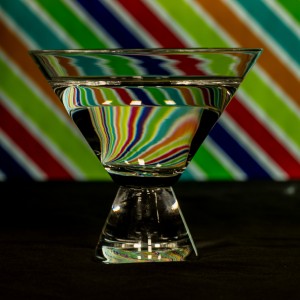 We are delighted to enlist the very talented Lind Michel to lead us through the "Big Splash."
 For those of you who missed the previous water experiment, you might be asking yourself what is the "Big Splash." It just so happens, with Lind's talent we will capture some amazing things done with water. Many of these experiments you will be able to try at home, with amazing results.
 We will set up several water related sets throughout the large Bluebonnet library room. Some of the sets will allow you the opportunity to test your talents using strobe lights and others will require the use of speed lights.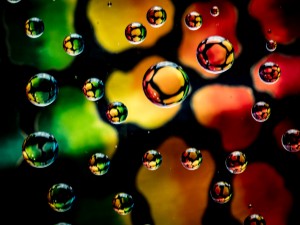 For sure this will be an exciting indoor event, so stay tuned as further updates will follow as we near the kickoff !
Register Here or Do you need to Cancel?  
---
The following dates and field trips are in the works for 2019. Some of the details are still being worked out but we want to give everyone a chance to plan ahead. June 22. Plantation home tour, Including San Francisco Plantation, Oak Alley Plantation, Houmas House and Laura Plantation. July 13. The "Running of the Bulls" New Orleans, Louisiana. Early morning start 6:30 am. Questions or concerns? email fieldtrips@laphotosociety.com